Why Are Dental Cleanings Important?
Posted by ROBINSON FAMILY DENTISTRY on Oct 14 2021, 07:16 AM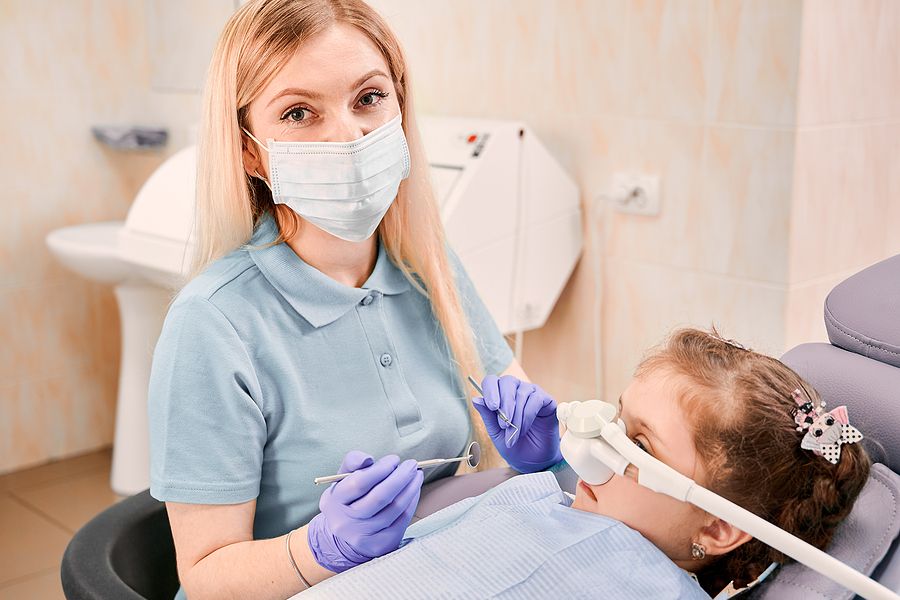 Out of all the things vital for one's oral health, maintenance of dental hygiene comes first. There are several benefits associated with following good oral hygiene, and the major among them is that it helps prevent a wide range of dental diseases that include tooth decay, cavities, and gum disease. 
What Does Dental Hygiene Practices Involve?
To maintain optimal oral health, one's dental hygiene habits should essentially involve two things:
Routine dental checkup and teeth cleaning
At-home oral hygiene practices
Routine Dental Cleaning and Oral Evaluation
As per the ADA, everyone should visit their dentist for teeth cleaning and checkup once every six months to keep their mouth disease-free and healthy and to detect dental issues in their initial stages. During regular dental visits to Robinson Family Dentistry, we will:
Evaluate the patient's mouth and check for tooth decay, cavities, and gum disease.
Thoroughly clean their mouth, scraping off plaque and tartar from the surface and in between their teeth using dental tools.
Conduct head and neck exams to detect any abnormalities like lesions and oral tissue discrepancies to detect oral cancer.
Strengthen the teeth's enamel using fluoride treatment.
At-home Oral Hygiene Practice to Maintain Oral Health Between Visits
Taking proper care of teeth and gums at home is essential to lay a solid foundation for long-lasting oral health and aesthetics. The basic oral hygiene practices everyone must practice in their everyday life at home are as follows:
Brush at least twice every day: Brushing two minutes twice a day is the most important practice to follow for optimum oral health. This will help to prevent food debris and any residue from sugary drinks from accumulating on the teeth, thus ruling out any possibility for the growth of harmful bacteria. 
Floss when you brush:Brushing alone is not enough as the bristles of the toothbrush can't reach everywhere. Flossing helps clean the areas in between the teeth where brushing cannot reach. 
Choose tooth-healthy foods and beverages: Opt for healthier foods and drinks instead of unhealthy ones. Reduce the intake of sugary or acidic foods and drinks and rinse your mouth or brush afterward if you ever consume them. 
Use a fluoride mouthwash: Besides brushing and flossing, take time to rinse your mouth using a fluoride mouthwash, especially if your teeth are more prone to cavities. 
Why Is It Important To Follow Proper Oral Hygiene Practices
If you do not follow regular dental hygiene, you are at a higher risk of severe oral diseases like cavities, gingivitis, cracked tooth, periodontal disease, bruxism-related conditions, etc. Following proper oral hygiene practices can help avoid dental issues like bruxism, bad breath, dry mouth, toothaches, cracked teeth, tooth sensitivity, temporomandibular joint dysfunction, gum recession, gingivitis, periodontal disease, cavities, oral thrush, canker sores, dental abscess, etc. Besides, lack of proper oral health can increase the risk of several other health conditions like heart disease, diabetes, weakened immune system, etc. 
Following proper oral hygiene practices are very important because of the following reasons:
Helps prevent tooth loss.
Good oral hygiene practices help keep one's teeth and gums healthy and disease-free.
Good oral hygiene practices prevent various diseases associated with dental infections like asthma, arthritis, premature births, respiratory problems, low birth babies, coronary artery disease, and stroke.
Regular dental visits help in the earlier identification of dental and systemic health diseases like tooth grinding, vitamin deficiencies, acid reflux, diabetes, osteoporosis, heart problems, dementia, oral cancers, etc. 
Do you want to know more about the best dental hygiene practices? Call Robinson Family Dentistry at (843) 554-9332 or schedule an appointment online.